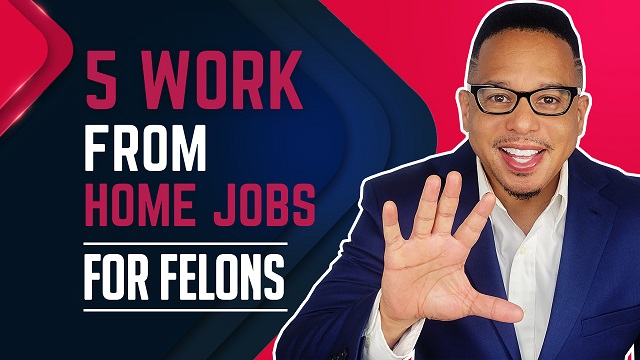 In this episode, Quincy Benton shares the "Top 5 Work From Home Jobs For Felons | No Background Check."
As many of you already know, getting a job as a felon can be challenging. Most of us are also aware of the "felon-friendly" jobs lists that exist. However, I've found that many of those lists typically do not have jobs that you can work from home. For some of us, working from home can be a better option – allowing men and women with backgrounds to earn money without all of "distractions" that can come with a regular job in a workplace.
I've started this list of "No Background Check" – "Work From Home" Jobs. This list is just a start. There are no guarantees that these jobs are available in your region of the country and/or world; or, will be open when you see this video and are interested in applying.
Please help me spread the word if you know of other "No Background Check" – "Work From Home" Jobs. Please list them in the comments below and I will share them in an updated video for the start of 2022.
?❤️?? —–CONNECT WITH QUINCY HERE—– ?? BUSINESS INQUIRIES, SPONSORS & FAN MAIL PLEASE EMAIL: livelifemediagroupceo@gmail.com : OR, CALL: +1 (405) 233-8626
?Follow QUINCY On Instagram Here ? https://www.instagram.com/fromsetbacks2success
★—-CHECK OUT OUR WEBSITE: ?http://www.fromsetbacks2success.com/
⭐️⭐️⭐️ Want to Support Our YouTube Channel and Podcast?⭐️⭐️⭐️
? Cash App Your Donation of Any Size To: $FromSetbacks2Success (Quincy Benton)
? Download Your Copy of Quincy's First Book: www.amazon.com (Live Life! Be Young, Black & Successful by Quincy Benton)
? Download Your Copy of Quincy's Second Book: www.amazon.com (Change the Game: Live Life! On the Next Level by Quincy Benton)