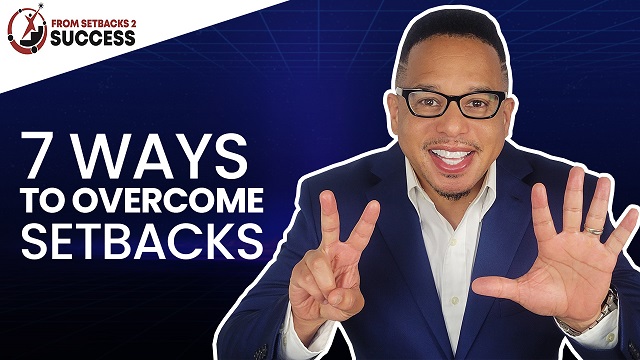 In this episode, Quincy Benton shares the "7 Ways To Overcome Setbacks."
As many of you already know, overcoming the hardships life sends us can seem impossible. I know this from experiencing multiple setbacks (some at the same time). I've experienced divorce. I've filed for bankruptcy. I've experienced a house fire where I essentially lost all of my material possessions. Just when I thought things couldn't get any worse, I found myself incarcerated in a federal prison.
However, through it all, there is a way to live through them all and thrive once again. Here are my top seven ways. My hope is that you find something valuable that will help get you through.
Was this episode helpful? Do you know of any other tips for overcoming life's setbacks. Please share your comments below. ?
Oh… and be sure to SUBSCRIBE, LIKE, COMMENT & SHARE IT W/ A FRIEND IF YOU FEEL IT COULD HELP THEM TAKE THEIR LIFE TO THE NEXT LEVEL!
?❤️?? —–CONNECT WITH QUINCY HERE—–
?? BUSINESS INQUIRIES, SPONSORS & FAN MAIL PLEASE EMAIL: livelifemediagroupceo@gmail.com : OR, CALL: +1 (405) 233-8626
?Follow QUINCY On Instagram Here ? https://www.instagram.com/fromsetbacks2success
★—-CHECK OUT OUR WEBSITE:
?http://www.fromsetbacks2success.com/
⭐️⭐️⭐️ Want to Support Our YouTube Channel and Podcast?⭐️⭐️⭐️
? Cash App Your Donation of Any Size To: $FromSetbacks2Success (Quincy Benton)
? Download Your Copy of Quincy's First Book: www.amazon.com (Live Life! Be Young, Black & Successful by Quincy Benton)
? Download Your Copy of Quincy's Second Book: www.amazon.com (Change the Game: Live Life! On the Next Level by Quincy Benton)
☆☆ STAY WITH ME ☆☆
SUBSCRIBE to watch more incredible success stories! ► https://www.youtube.com/channel/UCGfDy0OQqQul3k8AD-SdBbQ
Check out these other episodes From Setbacks 2 Success: How I Survived 26 Years in Prison and Now Succeed? – Interview with Kareemah Hanifa
Brilliant Job Interviewing and Productivity Planning Tips For Felons – Interview with Trish Batson
What Should I Know Before Declaring Bankruptcy? – Interview with Bankruptcy Attorney Dekovan Bowler, Jr.
How To Not Let Inevitable Setbacks Hold Back? | Interview with Karim Muhammad | Founder of the Teacher's Appreciation Foundation (TAF)
#setbacks #overcomesetbacks #neverquit #felon #success #podcast #dontquit #quincybenton #fromsetbacks2success