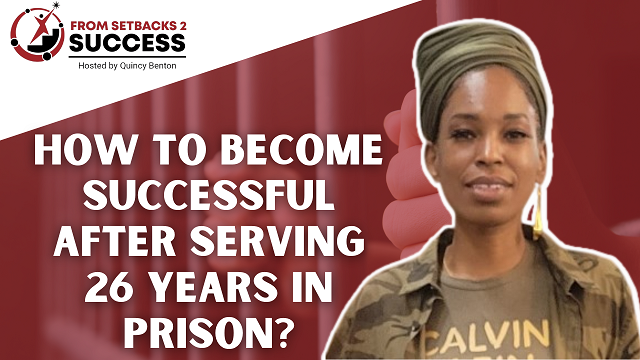 In this episode, Quincy Benton interviews Kareemah Hanifa. At 15 years old, Kareemah turned to the streets, was arrested, and sentenced to serve two life sentences behind bars. Kareemah has been now released from prison, married, and has a college degree. Kareemah is dedicated to empowering youth who are involved in the criminal justice system through youth advocacy, conflict transformation, and criminal justice reform. Learn how she did it and how you can overcome from your setbacks too!
What do you think about Kareemah's story ? Share below ? Oh… and be sure to SUBSCRIBE, LIKE, COMMENT & SHARE IT W/ A FRIEND IF YOU FEEL IT COULD HELP THEM TAKE THEIR LIFE TO THE NEXT LEVEL! ?❤️?? —–CONNECT WITH QUINCY HERE—–
?? BUSINESS INQUIRIES, SPONSORS & FAN MAIL PLEASE EMAIL: livelifemediagroupceo@gmail.com
OR, CALL: +1 (405) 233-8626 ?
Follow QUINCY On Instagram Here ? https://www.instagram.com/fromsetback…
★ Follow KAREEMAH HANIFA On Instagram: ? https://www.instagram.com/kareemah843/
★ You Can Also Find KAREEMAH At This Website: ? www.imancentral.org
—–CHECK OUT OUR WEBSITE: ?http://www.fromsetbacks2success.com/
⭐️⭐️⭐️ Want to Support Our Podcast?⭐️⭐️⭐️ ? Cash App Your Donation of Any Size To: $FromSetbacks2Success (Quincy Benton)
? Download Your Copy of Quincy's First Book: www.amazon.com (Live Life! Be Young, Black & Successful by Quincy Benton)
? Download Your Copy of Quincy's Second Book: www.amazon.com (Change the Game: Live Life! On the Next Level by Quincy Benton)
Produced by: Blacken Studios – www.blackenstudios.com ☆☆ STAY WITH ME ☆☆ SUBSCRIBE to watch more incredible success stories! ► https://www.youtube.com/channel/UCGfD…
Check out these other Interviews and Content From Setbacks 2 Success!
Brilliant Job Interviewing and Productivity Planning Tips For Felons – Interview with Trish Batson
What Should I Know Before Declaring Bankruptcy? – Interview with Bankruptcy Attorney Dekovan Bowler, Jr.
#setbacks #prison #success #podcast #relationships #divorce #kareemahhanifa #quincybenton #fromsetbacks2success #imancentral #massincarceration #prisonreform