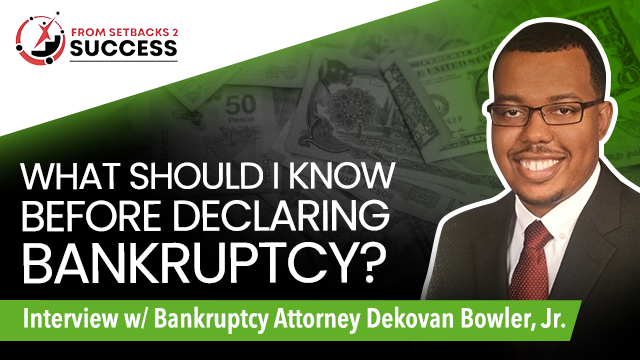 Divorce? Failed business? Medical bills you can't afford?
In this episode, Quincy Benton interviews bankruptcy attorney Dekovan Bowler, Jr. of Bowler & Associates to gain tips for reaching a bankruptcy resolution for those who may be currently facing a financial crisis. Learn more about key debt relief solutions to assist individuals or businesses who file for bankruptcy relief under the United States Bankruptcy Code.
Who is Dekovan Bowler, Jr.?
A 2016 graduate of Oklahoma City University School of Law. Today, Dekovan serves as a bankruptcy attorney at Bowler & Associates. Dekovan offers over 25 years of professional experience in bankruptcy law: Chapter 7, Chapter 11, Chapter 12 and Chapter 13 Bankruptcy.
Was this episode on bankruptcy tips helpful? Share below ?
Oh… and be sure to SUBSCRIBE, LIKE, COMMENT & SHARE IT W/ A FRIEND IF YOU FEEL IT COULD HELP THEM TAKE THEIR LIFE TO THE NEXT LEVEL!
?❤️?? —–CONNECT WITH QUINCY HERE—–
?? BUSINESS INQUIRIES, SPONSORS & FAN MAIL PLEASE EMAIL: livelifemediagroupceo@gmail.com : OR, CALL: +1 (405) 233-8626
?Follow QUINCY On Instagram Here ? https://www.instagram.com/fromsetback…
★ Follow DEKOVAN BOWLER, JR. On Instagram: ? https://www.instagram.com/esquire_kov/
★ Book Your Free Bankruptcy Consultation On Bowler & Associates Website: ? http://www.bowlerlawfirm.com/
—–CHECK OUT OUR WEBSITE:
?http://www.fromsetbacks2success.com/
⭐️⭐️⭐️ Want to Support Our Podcast?⭐️⭐️⭐️
? Cash App Your Donation of Any Size To: $FromSetbacks2Success (Quincy Benton)
Produced by: Blacken Studios – www.blackenstudios.com
SUBSCRIBE to watch more incredible success stories! ► https://www.youtube.com/channel/UCGfD…
Check out these other Incredible Success Stories!
How I Survived 26 Years in Prison and Now Succeed? – Interview with Kareemah Hanifa
Brilliant Job Interviewing and Productivity Planning Tips For Felons – Interview with Trish Batson
#setbacks #bankruptcy #law #success #podcast #relationships #divorce #quincybenton #fromsetbackstosuccess #dekovanbowler #bowlerlawfirm #financialcrisis